True Tenchi Muyo! Volume 1: Jurai For Sale in English Now!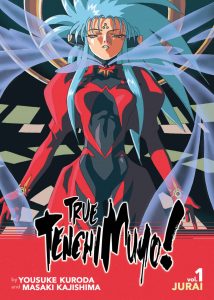 Well, if you weren't already aware, the first volume of the Shin Tenchi Muyo! series, Jurai, is now officially for sale in English (click the link to buy from Amazon.com). Its American title is True Tenchi Muyo! Volume 1: Jurai. And of course, yours truly was the official English adapter. 🙂
For those interested, on my main anime/manga blog, I've written a piece that contains the final version of the forward to the novel that I had written. So click one of the above two links in this paragraph to check that out, if you are so moved.
For those who've read the book, let me know what you thought of it. The Japanese honorifics were retained, and the proper naming orders are used for all characters (ie: Masaki Azusa Jurai).
Can't wait for you all to read volume 1, and for the next volume to be available for purchase!