Hey gang! The crew of Useless Tenchi alerted me to Kodansha now having put out the official cover for the first volume of Kajishima-sensei's new novel project, Paradise War.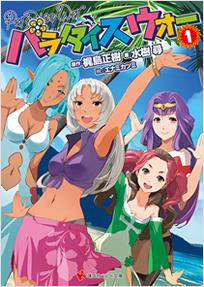 A small image is all we have at present. As expected, this contains the girls from the cover of Kamidake Onsen 10.  Below is the text from the Kodansha page.
パラダイスウォー1
原作:梶島正樹 著:水樹 尋 イラスト:エナミカツミ
南の島には、きっとアツい何かが、待っている!
その場のノリとテンションで南の島・盤上島への移住を決断してしまった両親。
そのおかげで、駆駒将は島でのサバイバル生活を余儀なくされる。不慣れな生活に
不安を覚えるも、現地で知り合った異国風の美少女4人(しかも、なぜか将に興味津々!)の手助けもあり、テントを張り、海や山で食べ物を採り、火を起こし……何とか
生活の拠点を築くことが出来た。女友達のいなかった将は、彼女たちとのふれ合いに
戸惑いつつも、島での生活を始める。雲一つない真っ青な空、緑豊かな森、透き通るようなエメラルドブルーの海は、まさに楽園。そこにあったのは4人の美少女たちとのニューライフ! しかし島には謎&陰で蠢く策略があった!?
I don't have a translation yet, but those wanting to order this from Japan can do so from Amazon Japan (I didn't see it on Yes Asia yet).  Just remember, importing from Amazon Japan costs an arm and a leg.